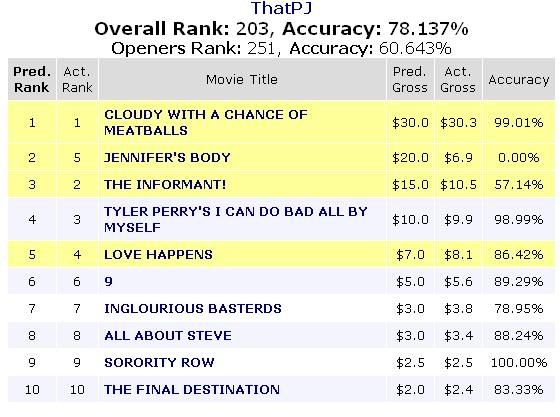 Jennifer's Body bombed. Luckily I only spent 5 confidence points on it so the damage is not that bad. As you can see, the film where i spent nearly all of my confidence points, Cloudy with a Chance of Meatballs, I got 99% on. So suck on that bitches. Overall, I got 90 out of a possible 100 confidence points. 80 for Cloudy and 10 for Love Happens. Not bad for the first time around.

Next week there is a musical remake, a Bruce Willis thriller, an actual horror film, and some sort of buddy comedy based on a book, plus a bunch of Oscar bait limited release including Michael Moore's new documentary WHICH I ALREADY SAW, Bright Star, which I am GOING TO SEE REALLY SOON, and

Coco Before Chanel. AND Whip It which comes out next week, I am seeing this weekend barring any unforeseen circumstances.